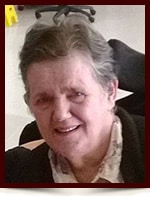 Brenda Maureen Smith (nee Evans)
June 10, 1938 – July 2, 2015
Born in Thunder Bay, ON (Fort William)
Resided with husband Herb and their seven children in many Canadian Provinces west of Quebec.
Brenda Maureen was a Christian, spiritual, warm, intelligent, and caring, while  often a silent person, wife and mother. She was 'fun loving', liked nice things - roses, animals, pets, picnics, and fun loving family celebrations.  She had a very challenging life as a child. Many families with children who were born and deprived during the 1930's and 1940's, (through "The Dirty 30's" and W.W. Two), lived in those same conditions, which had many under appreciated lasting implications.
It is with sorrow we announce the passing of our mother, grandmother, great grandmother, confidant, sister and friend - at the age of 77 in the Innisfail Health Centre. Her lifelong husband Herbert died in Innisfail just a few years ago, (his identical twin Art preceding him.)
Left to contemplate their family memories are her beloved children, Daniel, (Verena), Germany;
Jeffery (Kathy), Timothy, Darrell, Cindy (Dave), David (Carla), all residing in Alberta, and Debbie, (British Columbia), (and the next two generations) – Maureen's beloved Grandchildren and Great-grandchildren all of whom gave her much joy.
Brenda has many family members, nieces and nephews and friends residing in many parts of Canada, the United States and Germany.
Brenda was predeceased by her mother Unelma Heinonen/Piili and father James MAURICE Evans in Thunder Bay, Ontario who are buried there. Brenda inherited her 'Viking' (Finnish) genes from her Mother's side, and it is explained it is why many in the family are so tall! (Six feet or more!)
Left to think about Brenda's life and passing are her sister Sandra (Michael) Kantymir, Thunder Bay, Ontario and Brenda's younger brother David (June) Evans of New Liskeard, Ontario - and all the children and grandchildren – Brenda's nieces and nephews of two generations. Brenda also left friends of her childhood to mourn, as well as members of her late husband, (Herb's) extended family.
The families of Brenda would like to extend our appreciation to the loving care she received in the Innisfail Health Centre, particularly by the Nurses on the Canary Unit; to Chaplain Lavinia West, and to the friends she made who enhanced her life there, particularly Myrna, and Tom, who taught her to expand her horizons in spirituality, friendship, music, and in many creative activities.
Cremation has taken place at Brenda's request. The family will have her remains placed at a private ceremony at a later date.
In lieu of flowers, the family would encourage the gift of visits to a senior or person in need. The children of Brenda have requested donations to contribute toward the funeral costs. Please contact Brenda's son Daniel Smith in this regard. Financial contributions would be very much appreciated.
Celebration of Life
2:00PM Monday, July 27 2015
Trinity Funeral Home
10530-116 Street NW Edmonton, AB