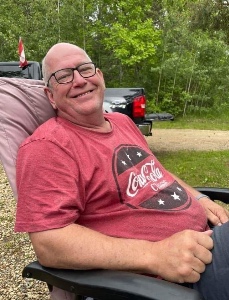 Brian G Briault
June 22, 1960
-
May 30, 2023
It is with heavy hearts that we announce the passing of Brian G. Briault on May 30th, 2023 following his courageous battle with cancer.
Brian was born in Wainwright Alberta and remained a proud Albertan residing primarily in Central Alberta.
He was very proud of his family heritage as both his mother's and father's families served our Country in the wars. Brian was very specific about sharing his pride by having a flag and plaque for Veterans Voices of Canada on Remembrance day.
Family was Brian's greatest love. He was blessed with 2 beautiful daughters (Angela, Virginia) from his first marriage. He then met his soulmate Sharlene. In true Brady Bunch fashion they came together; he with 2 girls and she with 2 boys (Dawson, Brandon). They then completed the family with 2 dogs and life began. Brian was pleased to have boys he could pass his male knowledge and skills onto.
They would spend summers at Gull Lake as did his family. This was a special and favourite time for all of the family.
If you knew Brian then you knew he was strong, opinionated, loveable, social and loyal to a fault. He was also a softie in that he loved his animals; mans best friend Mia by his side for comfort. He took great pride in his work as a Jack of all trades. His main job was as a truck driver, which became his second family. He loved the camaraderie. He drove ice roads, logging roads, and of course the oil patch. He hauled N2, Co2, sand, water, salt, you name it! One job Brian was a water hauler who had put in 58 straight hours to please the company and keep the hole going; he got out of the truck and passed out into the mud! He drove long haul across the US. Even during COVID, Brian worked bringing goods to people. He was a very hard working and dedicated man. Brian loved wood working, puttering in the garage and took pride in his yard work; having THE greenest grass on the block. He truly enjoyed watching Barrett Jackson auctions and had a great love for nostalgia. He collected MANY things i.e.) Coca cola, flashlights, pens, pins, boxes, hats, t-shirts….really anything!
One of his favourite sayings he inherited from a brother in law was "take it and go".
Brian will be survived by his loving wife of 33 years Sharlene; daughter Angela (John) Anderson; son Dawson (Beth) Ritchie; daughter Virginia (Bren) Walker; and son Brandon (Shayla) Briault. He is also survived by his sister Joan McLeod, brothers Larry Briault, Ken (Shirley) Briault; brother in law Lyn Smith; He is also survived by his mother in law Monique Ritchie-McBride, brother in law Andy (Jean) Hutton, Dan (Rose) Ritchie, Darlene (Art) Viglianti, 16 grandchildren and several beloved nieces, nephews and cousins.
A private celebration of life will be held to honour Brian on June 17th.
In lieu of flowers, donations can be made in Brian's name to either Veterans Voices of Canada or Saving Grace Animal Society.