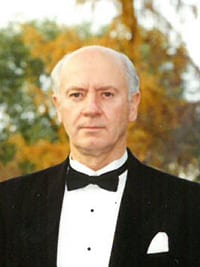 Bruno Drachenberg
Born in Elow, Poland, on December 20, 1937, Bruno Drachenberg passed away on July 12, 2018.
Bruno is survived by Margaret, his wife of 52 years, son Cory (Kerra), granddaughters Rebecca, Rachael and Kate, sister Irma Wolfram and numerous nieces and nephews.
The family immigrated and settled in to Edmonton, Alberta, Canada in 1954. Bruno attended school there and enjoyed playing soccer. He worked several different jobs before starting at Ziedler Forest Industries in 1960. He advanced through the departments to become Vice President of Operations until his retirement in 1997. Bruno married his wife Margaret (Miller) in 1965. He loved shiny cars and travelling.
Bruno is predeceased by his parents Albert and Johanna, a nephew Curtis and grand-nephew Andrew Borgeld.
Funeral Service
Thursday, July 19, 2018 at 11:00 am
Evangelical Fellowship Church
10511 79 Avenue, Edmonton.
In lieu of flowers, donations may be made to the Alzheimer Society of Edmonton, 10531 Kingsway NW, Edmonton, or to Liberty Corner Missions, in Bruno's name.