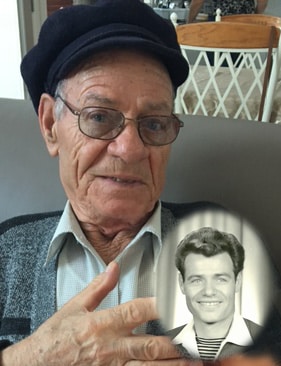 Bruno Tassone
It is with great sadness and a heavy heart that the family of Bruno Tassone announces his peaceful passing on December 26, 2020 at the age of 89 years. Bruno is survived by his loving wife of 61 years, Elisabetta Tassone; his devoted son Domenic and daughter-in-law Donna; his caring grandchildren Alysia, Matteo (Alana), and Michelle; and his beautiful great-grandchildren, Tayden and Braea.
Bruno was born in Simbario, Italy in 1931. As a young boy, he helped his father on their small family farm. Bruno was the eldest son and was regularly called upon to help his family. He often retold the story of his father and him coming across a German army unit camped out at their farm mere months before the allied forces rolled through southern Italy.
At the age of 18 years, Bruno moved to France where he spent the next 6 years working in mines and sending money back home to Italy to help support his parents and seven brothers and sisters. In 1956, he decided to immigrate to Canada to start and build a better life. Over the next several years, Bruno brought over and sponsored his parents and siblings. Throughout his life, Bruno was proud of having helped his entire family immigrate to Canada so that they too could build a better life. In 1959, he married Elisabetta and they had one son, Domenic.
As a new immigrant and part of the great building generation, Bruno primarily worked in construction. He would later obtain a Building Operators' Certificate from NAIT and worked for a major property management company before his retirement. Friends and family often described Bruno as being a very generous man. He was gregarious and enjoyed all social settings. Bruno loved to dance and especially enjoyed listening to his son Domenic play a tarantella on the accordion.
After his retirement, Bruno and his wife Elisabetta vacationed in Italy every couple of years to personally experience "la dolce vita" and spend time with Elisabetta's large extended family in Italy and France. When Bruno was there, he enjoyed sipping on an espresso and playing cards with his Italian friends in the town's piazza. He often said that his fondest memory was taking his beloved grandchildren Alysia, Matteo, and Michelle to Italy for a summer of fun, gelatos, and days at the beach or as Italians call it, "la spiaggia".
Throughout his life, Bruno loved to garden and make homemade wine. In fact, Bruno continued to plant vegetable gardens and flower beds well into his mid-eighties. Every fall, he would eagerly anticipate the arrival and delivery of the cases of California grapes needed to crush, press, ferment, and fill his vintage Italian demijohns. Bruno's greatest vintage will always be the year that he was able to make wine with his great-grandson Tayden. His son Domenic and grandson Matteo were only there to cheer Tayden and Nonno on.
Speaking three languages, Bruno would often express terms of endearment in Italian, French, and English. He loved his daughter-in-law- Donna like his own daughter. He always referred to his cherished granddaughters Alysia and Michelle as "Bella di Nonno", and was especially fond of Matteo's wife Alana and precious great-granddaughter Braea.
Caro Bruno, Papa, and Nonno, you will be forever in our hearts. We will miss you and will always "love you to the moon and back and up to the stars."
Friends and family wishing to pay their last respects to Bruno may do so following COVID protocols of a maximum of 10 people in the church at a time, Thursday, December 31, 2020 from 9:00 am to 9:45 am at Santa Maria Goretti Church. After the viewing, a private service will be held by the family due to Covid-19 restrictions with interment at Holy Cross Mausoleum. Photos, Memories, and condolences may be shared through www.trinityfuneralhome.com.