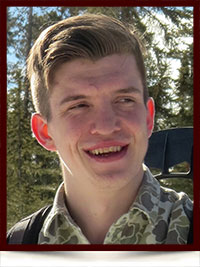 Bryant Cronkright
It is with great sorrow and heavy hearts that we announce the sudden passing of Bryant Cronkright at the age 24. Mourning him are his immediate family Ann and Greg and his brother Ian Cronkright; as well as his extended family Eunice, Phyllis & Terry, Pieper & Brian, Jill & Orest, Eric & Dawn and their families.
We remember the happy-go-lucky little guy we loved so much! He was a loving soul who was empathetic to the needs of others since he was a child. He was known for his high energy, love of the outdoors and animals. Bryant excelled at mountain sports like climbing and snowboarding and very much enjoyed fishing and hunting with his uncles. He was an avid fan of MMA and NBA. He wasn't all rough and tumble, having an appreciation for nice clothes, trying new restaurants, and going for sushi.
This is a devastating end to a long story of Bryant's struggle with his addiction. Despite the love, support and every opportunity given to help him, Bryant could not acknowledge what those around him could see happening. After periods of recovery, he had a cycle of believing he could be a casual user and keep it hidden.
A service of commemoration will be held at 1:00 p.m., Friday, January 13, 2017 at Our Savior Lutheran Church 18345 62B Ave., Edmonton AB – (the corner of Callingwood Rd and 184 St.) followed by lunch and a time to share happier memories.
If you should so desire, in lieu of flowers, the family requests that donations be made to the Edmonton Humane Society or Shunda Creek (Enviros Wilderness School Association).