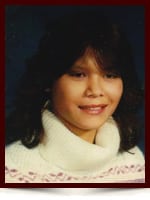 Carmen Cecile Ross
December 7, 1967 - February 1, 2012
On February 1, 2012 Carmen Cecile Ross passed away at the age of 44 years.
She is survived by her children: Wesley, Ryan and Harley; siblings: Valarie, Darwin and Marvin; she was auntie to Matthew, Aaron, Tammy, Craig
Darwin, Cameilla, Violet as well as numerous cousins and extended family. She was predeceased by her mother Cecile and by her sisters Beverly and Allison.