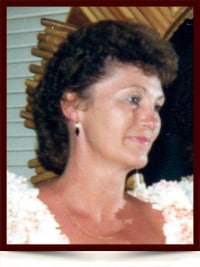 Carole Ann Badry (Morin)
July 3, 1940 – January 10, 2017
A beautiful soul and loving mother departed her earthly world to be with her lord.
Preceded by her parents Edwin and Edna Morin, and younger brother Frederick Morin, Carole passed away peacefully in Edmonton with her five children at her side. Leaving behind a large family with eleven grandchildren and eighteen great grandchildren, Grandma Carole is remembered for her vivacious personality, joking nature and her avid interest in world affairs. She was born in Toronto and moved to Edmonton in the early nineteen fifty's with her parents where she resided for the rest of her days.   As a young women she belonged to the horse riding club of Edmonton, was an avid reader and enjoyed dancing.  Her outgoing personality allowed her to meet many people throughout her life and make many long-time friends.
Carole was married in 1957 and had three daughters and two sons. In her later years she spent time travelling and returned home to enjoy retirement.
Our Mother, Grandmother, Great Grandmother, Friend and Neighbor will be forever missed by all who knew her and all whose lives she touched.
For God so loved the world that he gave his only begotten Son that whosoever believeth in him should not perish but have everlasting life.                                                John 3:16
Footprints
One night a man had a dream. He dreamed he was walking along the beach with the LORD. 
Across the sky flashed scenes from his life.  For each scene, he noticed two sets of footprints in the sand; one belonged to him and the other to the LORD.  
When the last scene of his life flashed before him, he looked back at the footprints in the sand.  He noticed that many times along the path of his life there was only one set of footprints.  He also noticed that it happened at the very lowest and saddest times in his life.
This really bothered him and he questioned the LORD about it. "LORD, you said that once I decided to follow you, you'd walk with me all the way. But I have noticed that during the most troublesome times in my life, there is only one set of footprints. I don't understand why when I needed you most you would leave me."
The LORD replied, "My precious child, I love you and I would never leave you. During your times of trial and suffering, when you see only one set of footprints, it was then that I carried you.
Our beautiful Mother will be sadly missed and fondly remembered with gratitude and love by her children.