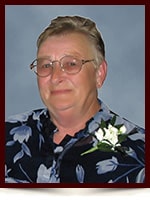 Carole Elaine Sheets
It is with great sadness that we announce the passing of Carole Elaine Sheets, our grandmother, aunt, mother-in-law, and especially our friend, on January 31, 2017.
Left to cherish her memory are her granddaughters: Megan Gilchrist (Chad) and their children, Brooke and Lukka; Margarita Carpenter; Erica Prenn (Nooraldin Attila) and their son Noah. Daughter-in-law, Tammy Johnston (Dave) her daughter, Amanda Boisvert, and great- granddaughter Kennedy. Stepson, Orrell Sheets (Colleen), and their children. Carole also leaves behind her beloved mother-in-law, Kay Johnston of Sundre, as well as other relatives, and many friends.
Carole was predeceased by her daughter Brenda in 1961, grandson Jason in 1994, son Ricky in 2011, daughter Glenda in 2015, her stepson, Lyle Sheets and her husband Dale in 2015.
Carole was born November 17th, 1941 in Calgary, the only child of Alvina and James Raymond Johnston.  James worked in the oilfields, and followed the oil to Sundre, where Carole spent much of her life.  When the going got tough, the tough got going, and that is exactly what Carole did. Carole was a very hard worker, and she always had a job where she could connect with people. She worked at restaurants, at the telephone office, as a camp attendant, and for many years, Carole worked at the Treasury Branch.  In the later years, she drove long haul trucks with her husband Dale.  Carole often came home from work to a garden, kids, cows, chickens, and usually a big lawn to mow. Carole was also an active member of her community.  She belonged to Royal Purple for many, many years.  She didn't have a lot of time to have fun, but she certainly had time to give a hand anytime one of her neighbors or friends needed help.  Carole loved babies, country music, and canning. Though Carole did not always have much, she shared anything she could – from a salsa recipe to her last dollar.
She will be greatly missed by all who had the pleasure of knowing her.