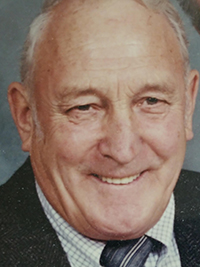 Casper "Cap" Burkard
It is with sadness that the family of Casper (Cap) Burkard announce his passing from his physical body back into spiritual form on Sunday evening, September 29, 2019 at 91 years of age.
He is predeceased by his loving wife, Victoria (Vicki) Burkard, as well as his sister and brother-in-law, Eileen and Edward Fotty.
Family members he leaves behind are son Bill (Margaret) Burkard, daughter Jo-Ann Marshall and grandchildren, Phil (Robyn) Zwiers and Leanne (Jorgen) Jespersen; five great grandchildren: Malakai (11), Amira (10), Scout (8), Iona (5) and Nya (5).
As per Cap's wishes, no service will be held.
Donations made be made to the Edmonton Humane Society at https://www.edmontonhumanesociety.com/ or by mail to EHS at 13620 163 St NW, Edmonton AB T5V 0B2.