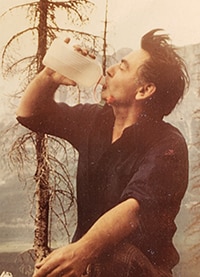 Cecil M Yarmoloy
Cecil Yarmoloy , August 28, 2020
Talkative and gregarious to the end, Cecil Yarmoloy passed quietly in his sleep at Grey Nuns hospital, Edmonton on 28 August at the age of 88.
Cecil greatly valued his independence and was able to live in his own home until several weeks before his passing.
Dad often commented that "Life was an Adventure" and that "Everyone has a Story". Cecil had many adventures with a wide mix of friends, acquaintances, students, and family.
Cecil was a lifelong learner and educator. Teaching high school biology at Banff Composite High for most of his career. His classroom was one of a kind – biology gone wild - with fish tanks, terrariums, daphnia tanks and plants adorning student desks, and counter tops. A biology class that teemed with life and was a unique learning environment. Cecil believed biology was to be taught hands on. Former students who worked for the warden service would occasionally provide wildlife for classroom dissection. It was not uncommon to see a group of students, some white faced, receiving a deer or coyote anatomy lesson at the back entrance to the high school with the hands of the biology teacher red with blood.
Dad loved the mountains with all their opportunities for hiking and fishing. He especially loved the swamp at the Cave and Basin where he spent countless hours watching tropical fish in the hot waters. In later years Cecil moved to the Edmonton area where he spent time producing and selling nature videos, reading voraciously, beaver trapping, bee keeping, tending nest boxes, bird watching, rejuvenating Islet Lake, and gardening. Daily socializing at the Second Cup on Whyte Avenue kept him connected with aquaintances until it closed. And more recently chatting with passersby from his front porch.
Cecil enjoyed of a good smoke and drink. One of his grandsons thought putting gunpowder in a cigarette would cure him of his smoking habit – after the initial surprise with the exploding cigarette he kept puffing away.
Cecil will be remembered by students, friends and family for his stories, adventures, and lessons he taught.
Dad ended his weekly telephone calls with his family with a "time to go on all these good notes – talk to you later."
Due to COVID19 no memorial is planned at this time. We remember the kindness of his friends and neighbours who helped him stay independent in the last few years. Please remember Cecil with your favourite story and raise a glass of cheer in his memory.
So, on all these good notes – Cecil bids us all farewell!