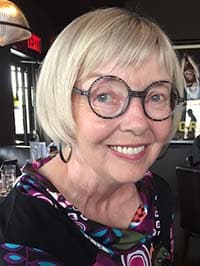 Charlene Ellen Osland
On Wednesday, March 14, our beloved mother, Charlene Ellen Osland passed away after a short and sudden illness. She was our sun, our moon and stars and will be deeply missed. She is survived by her four children, Jonathan (Richelle); Jacqueline (Ben); Corey (Robyn); and Ceilidh (Brad), all of whom she loved and cherished beyond words. She was also much-loved Nana to seven grandchildren: Ryley, Jack, Charlize, Dylan, Ayrton, Frieda and Winston.
She was pre-deceased by her mother, Ellen Armstrong, and her father, Lloyd Flotten.
In her youth, Charlene was an accomplished highland and ballet dancer. ­­She won many prestigious awards for her dancing and created lifelong friendships. She worked as a teacher's aid, secretary, and went back to school in her late 30s to become a registered nurse. Yet, without a doubt, it was her four children and her role as mother that brought her the utmost joy. She was proud of all their accomplishments and loved spending time with them, and her grandchildren.
Charlene was a gentle soul and immeasurably kind. She had an exceptional resilience, giving her the strength to make hard, even gut-wrenching decisions, where she chose self-respect and perseverance when it mattered most. These are the lessons she taught her children and this legacy is proudly being carried forward. She will be forever loved and missed.
We wish to express gratitude to the many new and old friends and extended family who were so special to our mom.
Celebration of Life
2:00PM Wednesday March 28, 2018
Richmond Park Church
9340 69 Avenue NW, Edmonton, AB
Memorial Donations
Crohns and Colitis Canada online at www.crohnsandcolitis.donorportal.ca