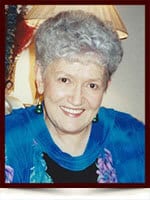 Claudette McCulloch (née Hébert)
December 3, 1939 - December 10, 2016
Our beloved sister Claudette passed away, December 10th at 3:00am. She had been moved to the "Lois Hole Women's Hospital"  palliative care after 10 weeks in the Royal Alexandra hospital for complications due to gynaecological issues. With family & friends having visited that day and her sister by her bedside she was finally free of pain & undoubtedly ready to claim her Angel wings.
Left to cherish their memories of a wonderful sister, devoted aunt/matante cousin and friend are her brothers Rick & Bernie Hebert, her sisters Rollanda Lee & Adrienne Hebert (Vancouver), Aunt Antoinette Cyre, Godson Al Hebert, Goddaughter Danielle Hebert & 27 nieces, nephews & their families as well as numerous cousins & friends.
Claudette was predeceased by her Father Adrien, Mother Bernadette, Brother Albert & Sister Connie.
Funeral Service
1:30pm December 20, 2016
St Joachim Catholic Church
9924-110 Street Edmonton, AB
Lunch & Celebration of Life to follow
Panorama Apartment
9915-115 Street Edmonton, AB
DONATIONS in lieu of flowers to: Royal Alexandra FOUNDATION for
The "Lois Hole Womens Hospital"( this is where Claudette died)
TRIBUTE GIFT - IN MEMORY of Claudette McCulloch
NOTE: Donation envelopes available at the Church and Lunch
Or call Jackie (780-735-8705) at the Royal Alexandra FOUNDATION to donate on line or directly.
Our Family wishes to express our gratitude to the staff at the Royal Alexandra Hospital and the
"Lois Hole Womens Hospital" where she passed away.