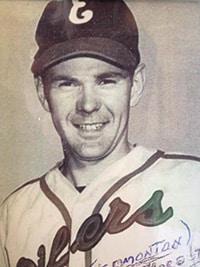 Cyril Alvin Thorseth
"Cy" peacefully passed away to his forever field of dreams on April 7, 2018.
He was predeceased by his faithful and loving wife, Bunny, in July 2017, and leaves to mourn his daughters - Carolyn (Gord), Melinda (Marty), Alanna (Brian), sisters Norma McNabb and Gladys Kennedy, and numerous friends and relatives including many step grandchildren.
Cy admired God and greatly enjoyed reading and believed strongly in His Holy Word: John 3:16 and 14:6 were among his fave verses. (biblegateway.com). He will be fondly remembered for his animated personality, love of farming, baseball/hockey, music, geology, the outdoors, and all God's creatures great and small.
Many called him The Whistler, and he stirred them with his vocal renditions of countless tunes including How Great Thou Art and The Lord's Prayer. Home on the Range was another favourite. He was also a yodeller—a talent he developed while passing the time as he ploughed and sowed numerous crops in Penzance and Valleyview and rode his beloved horses all over the Prairies.
Like all good farm boys, he could dance and fiddle up a storm and would swirl his wife and daughters around the family kitchen throughout their time together in Edmonton.
After he left his last homestead, Cyril went into commercial realty and then drove a taxi-cab. During his retirement, he probed people with his inquiring mind and graced them with his social skills at church, family and friend gatherings.
In 2005, he was inducted into the Saskatchewan Baseball Hall of Fame after a semi-pro career in the 40s and 50s as a pitcher (submarine style). After playing for many Saskatchewan teams, Cy was part of the Edmonton Oilers team when it was the city's baseball franchise.
His family thanks all who supported him throughout his long and blessed life.
If you would like to contribute something in Cy's honour, he would appreciate a donation to a homeless shelter, the Canadian Bible Society or the Edmonton Humane Society.
Celebration of his Life
7:00PM Sunday June 24, 2018
Callingwood Road Church
SE corner of 184 Street and Callingwood Road (62 Avenue)
There will also be a private family service held in Saskatchewan (his home province) in the summer.