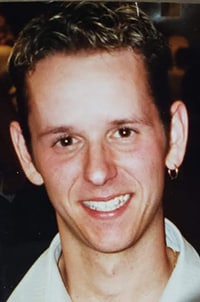 Darryl Alexander Onyschuk
June 13, 1979 - February 13, 2020
Darryl Alexander Onyschuk passed away peacefully with family by his side after fighting a long and courageous battle with MS at the age of 40 years.  Left to cherish his memory is his wife Jacquelyn of 11 years; daughter Jayda; his father Andy and his mother Sharon Onyschuk; brothers Ken (Juanita) and Garry (Jody).  Nephews Dylan, Braden, Dawson, Braden and Jase and niece Alyssa.  Darryl was predeceased by his grandparents Sam and Nina Onyschuk, and grandfather August Reich.  He is survived by his grandmother, numerous aunts, uncles, cousins and friends who loved him dearly.
Darryl grew up the youngest of three boys on a farm in Stony Plain where they had a menagerie of cows, cats, dogs, oh my!  Darryl hated to be bored and liked working with his hands so his dad was sure to please.  Darryl and his brothers could be found picking rocks and roots, quading, fishing, hunting, skidooing and dirt biking.   Darryl enjoyed sports and food with his favorites being hockey and sledge hockey and homemade perogies and cabbage rolls.  Darryl worked as a plumber at Accurate Mechanical and then in sales at Crane Supply but retired due to his MS.  He was enjoying his retirement with his wife Jacquelyn and daughter Jayda.  When he went into care he could often be seen cruising around in his scooter, blowing bubbles and playing with chalk with Jayda. He would always give you a smile, a wave, and a sarcastic witty comment!
He had a smile that could light up a room and a heart as pure as gold.  He will be sadly missed and his spirit lives on in his daughter whom he adored.  He faced many obstacles in his short life and always overcame them with a fierce spirit.
Darryl's family would like to give a heartfelt thanks to the medical staff at Westview Continuing Care Centre, Copper Sky Lodge, Dickensfield Care Centre and the Grey Nuns ICU Unit 24 for the wonderful care that they showed to both him and his family.
A Celebration of Life will be held on Saturday, February 22nd at 1:00 p.m. at The Elks Hall, 400 Diamond Avenue, Spruce Grove.
If family and friends so desire, donations can be made to "Support the Onyschuks" Go Fund Me Page.
God saw you getting tired
And a cure was not to be
So he put his arms around him
And whispered. "Come with Me."
With tear filled eyes we watched him
Suffer and fade away
Although we loved him dearly
We could not make him stay.
A golden heart stopped beating
Hard working hands put to rest
God broke our hearts to prove He Only Took the Best