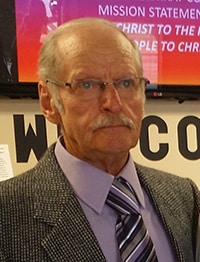 David J Rowe
It is with great sadness that the family of David J Rowe announces his passing after a long illness, on Sunday August 4, 2019 at the age of 74 years.
David will be lovingly remembered by his wife of 53 years Hazel and his children Debbie (Brent) Potuin, Stephen (Roxanne) Rowe. David will also be fondly remembered by his 4 grandchildren Brittney, Jade, Laysha and Desiree, and his sister Mary (Kevin) Rideout, two brothers Jason (Shirley) twin brother Harold (Barbara) Smith as well as many nieces and nephews. David was preceded by his parents Charlie and Effie Rowe, and stepbrother Ronald Rowe.
David moved his family to Fort McMurray in 1976 and worked for Syncrude for 30 years. David was a kind and gentle man who touched the lives of all friends and co-workers.
The funeral will be in Chance Cove Newfoundland on September 16, 2019.
Memorial donations in memory of David can be made to Kid Sport Foundation – Alberta.