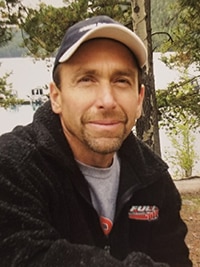 David Nathaniel Leonard
1960 - 2020
David Nathaniel Leonard, age 59, passed away Sunday evening, March 1, 2020 in the love and comfort of his home. His one-year battle with pancreatic cancer ended peacefully and he spent his last days surrounded by family.
Dave walked closely with the Lord and his faith was unwavering right until the end. He prioritized his family and was deeply respected and cherished by them. Dave was always wearing a quiet smile and looking for ways to help others, truly generous with his time and talents. Many cars were resurrected and rescue missions completed for his family and friends. Dave showed his dedication with a 36-year career driving for Praxair and was an example of humility, kindness and strength.  He was wise, gentle natured, easy going and loving above all else. When asked, Dave said his greatest accomplishment was his family and he spent as much time as possible surrounded with the noise, chaos, laughter and love that always filled his home.
Dave is survived by his loving wife Dana of 37 years, along with four children; Sarah and Joseph Ganczar (grandchildren Jolene and Ryan), Erin and Jordan Strohschein (grandchildren Carter, Deacon and Kenley), Lindsey Leonard, and Luke Leonard (fiancée Shauna Hennig and grand-daughter Dallas). His many siblings; Esther (Brian) Boone, Dan, Ruth (Ken) Vandervoet, Marc (Kathy), Martha, Becky, Tim (Linda) Leonard.  His in-laws: John and Helen Cybruch, Tracy Lees, Angie (James) Morrill, Rachel (Brad) Goulding and more beloved nieces and nephews then unfortunately can be listed. Well deserving of mention is our gentle-hearted friend Pauline Brown, who spent hours at his bedside along with Tracy Lees helping attend to Dave's needs towards the end of his life. Dave was predeceased by his parents Marcel and Betty and what a joyous reunion they must be having now. Dave was a devoted son, brother, father, husband, grandfather and friend.
Visitation will be held at Trinity Funeral Home (10530 – 116 Street, Edmonton, AB) Sunday, March 8, 2020 from 6 pm – 8 pm.  A Celebration of Dave's life will be held on Monday, March 9, 2020 at 11:00 a.m. at Life Church (formerly known as Evangel Pentecostal Assembly) located at 4461 – 50 Street, Edmonton, Alberta.