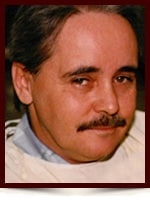 February 28, 1947 - November 3, 2012
David was born in Acton, County of Middlesex, England. He was one of the seven children of Albert Frank Sherrer and Muriel Louisa Jane Sherrer formerly of Goldsworthy.
He was survived by Soledad Santos Angeles, his wife of 25 years, his only child Jonathan Albert William Sherrer, his sisters Carole (Dr. Eddie Turner), Betty (Jim Clutterham), Rita (Duane Bassani) and Frances (Pat Rye), his only brother Larry Sherrer as well as nieces and nephews.
Celebration of Life
10:00AM Saturday November 10, 2012
St. Edmund Catholic Parish
13120-116 Street Edmonton, AB
Memorial Donations
McConnell Place North
9113-144 Avenue Edmonton, AB T5E6K2