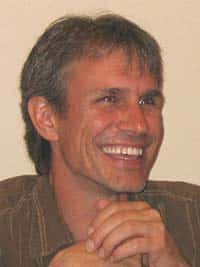 Don Becker
On April 22, 2020, we said goodbye to Don Becker, a man of character, strength & determination. Seven years ago, Don was diagnosed with metastatic thyroid cancer and over the years, he had to adapt to losing many of the things he loved – work, golf, travel, playing guitar and working on his acreage. Fortunately, he painted until the end and his watercolours will hang in many homes for years to come. 
Although his life ended too soon, Don had many good things in his life, beginning with being born on December 31, 1958 into a steady, active and fun family with siblings that had each other's backs when it was needed the most. Don was a fast and skilled hockey player and the family spent a lot of time at the rink. In university, he met, fell in love with and had long and happy partnership with Cheryl. They had many adventures together, not the least of which was having two terrific kids who kept life amazing, interesting and meaningful. Don worked for several architectural firms, ending his career as a Senior Associate in the architectural department at Stantec. He used his passion for design to build his own home in the country which became the gathering place for many family dinners and events which only became more joyful after the addition of grandkids Riley and Reese.  
Don is predeceased by his Dad, Bob Becker who loved family gatherings big or small, mom-in-law Joanne Grant who was a mentor and father-in-law Roy Cucheran, who also loved to build and gather with family. 
Don leaves behind his village of beloved: wife Cheryl; son Sam & Lana; daughter Nicky, Brent, Riley & Reese; mom Margaret; sister Barb, and nephews Sandy (Tiffany) & Connor (Jordyn); brother Doug, niece Sarah (Mike & Abigail), nephew Curtis; brother Brian; and cousin Rob (Michelle). This family came together in good times and in bad. Cheryl would like to thank her family, Kim, Rick, Rob, Hannah, Lance, Arren and her niece and nephews for their love and support.
There are many people who have touched Don's life including his friends, particularly Marcel Jakob, Dave Redekopp and Ken Schmuland. 
Don believed: work hard, always do your best, celebrate the good things in life, and make the world a little better than how you found it. 
For those who wish to make a donation, please consider making a donation to the Leduc Food Bank in his name.