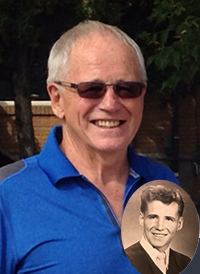 Donald Alexander Stanners
January 27, 1939 - June 23, 2020
Don died peacefully in his sleep in the early hours of June 23rd. One day after being showered with love on Father's Day.
Don had a smile that would light up a room and the kindest, twinkling eyes.  He was a great skier, and a fantastic swimmer. He held the world masters record in the incredibly difficult 200m butterfly. His swimming not only kept him fit, it was his meditation, and the pool was like his temple.
Don loved to dance. He started his dancing days with wife Penny. Following Penny's death, a fateful reunion with his teenaged summer love Arlene put the pep back in Don's step. They spent countless nights with their many friends dancing to their favourite live bands with moves that put the youngsters to shame.
Don was a voracious reader. He read the newspaper front to back every single day. He loved Louis L'Amour novels, and would read and re-read his extensive collection.
Born at the Miseracordia Hospital, Don was proud of his Edmonton roots and was a diehard Eskimo fan, so much so he took it upon himself to make sure he could only fall in love with Eskimo cheerleaders (both his loves, Penny & Arlene, were cheerleaders for his dream football team).
And Don was a devoted brother, dad, grandpa, great-grandpa and uncle. He was so proud of his children and all of their offspring. He called himself 'the rent-a-crowd' even though he never got paid to go to the many shows and events that his musical and sporty offspring were a part of.
He leaves behind his adoring gal Arlene Hasey, his sister San-Dee Lyons, brother Lorn Stanners (Linda), his children Kelly, Trent (Elaine), Tamara (Lorne Badger), and Karalee; his grandchildren Amanda, Joe, Penny, Zachary and Aaron; Katie and Sarah; Chris, Shannon, Alexandra, Charley and Samantha; and Maxwell; 13.5 great-grandchildren, and Arlene's family who loved Don as much as he loved them.
As per Don's wishes, there will not be a formal celebration of life, instead he requested a family gathering with music, his favourite way to spend his days.
The gathering will have to wait until Covid-19 has loosened its grip as Don's family numbers far more than 50.
We know that until that time he is right beside us, listening to us tell the stories of what a wonderful man he was.
In lieu of flowers, contributions may be made to Mustard Seed Edmonton. https://theseed.ca/donate/