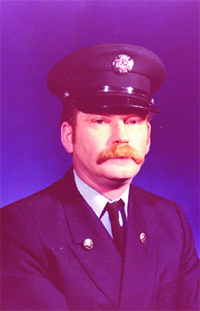 Donald Gordon Olberg
Donald Gordon Olberg, born in Edmonton on October 1, 1945 passed away in Edmonton on January 5, 2019.
During his lifetime Don lived in Bruce, Drayton Valley, Calgary and Edmonton.  He asked that special friends Leon and Caroline; Nancy; Jim and Karen; Dave and Kelly be thanked for their many acts of kindness over the past many years when he was ill.
He was proud of many things: volunteering with the Burn Treatment Society and for his thirty one years with the Edmonton Fire Department. Don retired from the Fire Department in Feb, 2001, with the rank of Captain. He asked that an apology be given "to all the toes he stepped on, but we did have the cleanest Fire Hall".
Don said that his best was three years in the United States Marine Corp and the fifteen months he spent in Vietnam (Da Nang), where he learned how to "duck". Don always said it took a good man to put him down, but it didn't take him long. He was proud to serve with the brave men and women in the Marine Corp and the Fire Department.
Don was predeceased by his mother Lorena, step father Len, father Gordon (Minnie) and niece Kelsey Lynn Disney. Survived by family members: sister Norma (Bob) Disney, niece Kathy Disney, nephew Philip (Carolyn) Disney, great-niece Grace Disney and uncle Hugh McNally.
To honour Don's wishes, there will not be a funeral. However, there will be a celebration of life in the spring.
Donations may be made to the Fire Fighters Burn Treatment Society at #200, 7024 – 101 Ave., Edmonton, AB T6A 0H7.