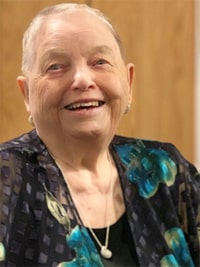 Donalda Mary Cull (nee Geddes)
Donalda Mary CULL (nee Geddes), 90, of Spruce Grove, Alberta passed away April 16, 2020 after a brief illness.
Donalda was born in Edmonton, Alberta, July 28, 1929, to Christina and John Geddes. Her life was characterized by a quick mind, a love of family, optimism, and a fierce streak of independent thinking. Donalda married Brenton Evans Cull July 11, 1952 and eventually settled in Hinton until both retired and moved to Spruce Grove.
She is survived by her son Alastair, and her stepchildren Patricia (John) Nichols, and Gordon (Edna) Cull and her elder sister Beatrice (Joseph) Banks. Donalda was predeceased by her husband Brenton (1997), and son Stuart (2015). She loved both her own children and Patricia and Gordon from Brenton's first family. While the family was far flung around the globe, she loved all her grandchildren and great grandchildren alike.
Memorial Donations
Donations may be made to The Kidney Foundation, The Misericordia Hospital or any charity meaningful to the donor.
Memorial Service
A virtual memorial service will be held on Monday, May 4, 2020 at 1pm.  To access the virtual service please access the link below:
http://www.facebook.com/groups/remembering.donalda.cull