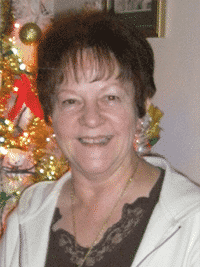 Donna Ann (Bielech) McRorie
1947 – 2019
On November 19, 2019 Donna was in the care of loved ones when she peacefully fell asleep when she was taken away from us and from the pain she had been in this last year.
Donna was born June 13, 1947 in Vermillion, Alberta to parents Karol and Polly Bielech. She was the second youngest child in a family of 13 children and raised on a farm in Derwent, AB
Predeceased by her parents Karol and Polly Bielech; her Brothers: Edward Bielech, John Bielech, Klem Bielech and Mike Bielech; her Sisters: Helen Slobinyk, Agnes Zaharko and Mary Wynnyk; her husband Garth McRorie and Son Shayne McRorie.
Survived by her daughter Tamara Weeks; sisters: Lillian Nykolyshyn, Cecilia Marchak, Elizabeth Lecapoy & brothers Peter Bielech and Frank Bielech as well as many nieces, nephews, grandchildren and great-grandchildren.
Donna and her parents moved from the farm to Edmonton in her mid teens.  At age 19 she married Garth McRorie.  In 1968 she had her daughter Tamara and two years later she had her son Shayne.
In the last 10 years, you could always find Donna at one of four places on the weekends… either dancing at the Legion, playing cards or yatzee, cooking up a storm in the kitchen or spending time at the lake riding around in her mini limo (her golf cart) with her favorite Chauffer (Boyfriend Keith).
Donna was known for her generosity and kind heart and was always there for her friends and her family and in return was always surrounded by love and will be dearly missed by us all.
Donna did not wish a funeral; she instead wanted her life to be a celebration and the sharing of stories and fun times.  Please join us to celebrate Donna's life on Sunday, December 15, 2019 from 2-4pm at her favourite dancing hall – The Royal Canadian Legion located at 14339 – 50 Street. Edmonton, AB.   We will be having some sandwiches, desserts, coffee, tea and there will also be a cash bar.  Come share some memories, (share your story if you like).