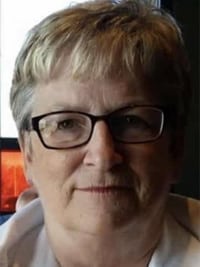 Donna Yvonne Morlock
We are deeply saddened by the loss of Donna Morlock, 68, of Edmonton, Alberta on 10 May 2020. She is survived by her children Kerry Duggan and Ryan Stankiewicz, her two granddaughters Megan and Kiera Duggan, her sisters Norma Slywa (Danny Campbell) and Sherri (Brad) Stephens as well as numerous nieces and nephews. She was predeceased by her father (Donald Morlock), her mother (Edna Morlock) and her sister (Joyce Cameron).
She was born in Vancouver, British Columbia on 20 March 1952.
She worked at the Glenrose Rehabilitation Hospital for close to 40 years where she had numerous friends.
She loved spending time with her family and for the last four years of her life she enjoyed cruises every March with her family and close family friend Robin St. Martin.
She was the best mom and gramma anyone could ask for. She was loving, caring and thoughtful. She was always there for anyone if they were in need. She will be missed and loved very much.
We all love you very much. Until we meet again.