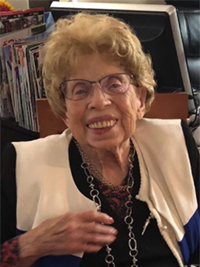 Doreen Amy Almonitis (nee Ruether)
August 18, 1928
-
July 29, 2021
Doreen Amy Almonitis (nee Ruether) passed away July 29, 2021 at 92 years of age in St. Albert, AB, surrounded by loved ones who prayed with her as she journeyed into her heavenly home.
Doreen was originally from Friedenstal, AB however the majority of her adult life she lived and worked in Edmonton, AB.  She is predeceased by her parents and 2 of her children.
Doreen was a dedicated volunteer for many organizations and kept volunteering well into her 80's! In recognition of this service, in 2005 Doreen was given the Alberta Centennial Celebration Award (Medallion) for volunteering for over 4,000 Bingos over 15 years and helping raise over $80,000.00 for the theatre and arts programs in Alberta.  In 2011 she was honoured again with the Pat Cole Award for her outstanding volunteerism in the Edmonton Region.  Doreen's Dad stood 6'4" and Doreen was tiny however she really was a giant in the heart of the Arts community in Edmonton.
In her 80's, Doreen rededicated herself to the Lord and was so amazed by God's Grace, forgiveness and unconditional love.  This love helped her to love and forgive herself and others, with that same Grace. 
In her 90's she was still playing Canasta almost every day for 2 to 3 hours, as well as crib and other games that stimulated her mind, including being an avid reader.  She walked super fast with her walker and at 92 still navigated herself around the city on buses, and by herself!
Doreen, you will always be loved and remembered!
Many thanks to the staff and volunteers at the Youville Home in St. Albert who helped Doreen after her Stroke.
Doreen's Celebration of Life Service will be held:
Saturday, August 7th, 2021 at 11:00 a.m. at Dovercourt Baptist Church, 12321 – 135 Street, Edmonton, Alberta. This service will be in-person and virtual.  See the following link: https://youtu.be/j9_hZJ_M9ro
In lieu of flowers, donations may be made to the Heart and Stroke Foundation, or charity of your choice.