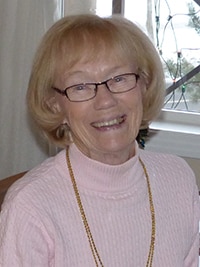 Doreen Hortense Williams
On the evening of December 7, 2018, Doreen Hortense Williams, succumbed to her many aches and pains at the age of 95. Her spirit remained strong but physically she had become increasingly fragile.
Doreen was born in Northgate SK. surrounded by 2 brothers, a sister, aunts and uncles. Northgate, where walking across the US border was a simple daily occurrence, often took them through her Aunt Freda's house for treats.
She was educated in Loverna Sk. Where through chance of alphabetical order Doreen Wilson sat in front of her future husband Arthur Williams. From the '40s through the '70's the Williams house was a place of children, friends and neighbors with much music and merriment. In 1965 Doreen, Arthur and the 5 children moved to West Edmonton where Doreen remained making many friends in the community, her church, Trinity United, West Edmonton Seniors and the Renaissance.
Doreen will be remembered for her kindness and helpfulness to all she met. Each of her children tell stories of how with amazing feats of strength and quick thinking, she saved them from what at the time, seemed like impending doom.
Her hobbies and abilities were vast; She was no stranger to tools, restoring many pieces of antique furniture and maintaining a beautiful garden of flowers that was enjoyed from her deck by her and many friends. When family or friends needed help, she was tireless, caring for many senior friends until the end.
She was a beautiful dancer and was a member of Wild Rose Country Dancers for many years She enjoyed riding her Arabian horse. There were always games to be played (Mum rarely losing) after the endless family dinners she tirelessly and expertly prepared.
We've lost a loyal, determined, and capable woman. She always did more than her share and never complained. Lovingly remembered by her children, Beverley (Greg), George (Jennifer), Jerry (Paula), Robin (Rita) and Rick (Grace). Grandchildren Michael (Lisha), Jack, Max, and Megan, Great grandchildren Maddie and Ava.  Predeceased by her husband Arthur, her sister Dorothy, Brothers Bert and Wilbur and granddaughter Andi.
Celebration of Life
January 8, 2019 at 2:00 PM
Trinity United Church
8810 Meadowlark Road, Edmonton AB