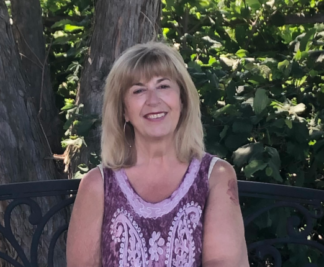 Doris Brenda Coutts (neé Hildebrand)
June 23, 1960
-
May 23, 2023
The family of Doris Brenda Coutts (neé Hildebrand) is deeply saddened to announce her passing on May 23, 2023 at the age of 62.
Doris will be forever loved and cherished by her three daughters: Jennifer (Peter), Victoria (Seamus) and Kelly (Geoff), and their father Douglas. She was a beloved "Gamma" to her four granddaughters, who were the shining lights of her life: Scarlett, Audrey, Nora and Emilia. She is also survived by her loving, loyal dog Dolce. Doris will be lovingly remembered by her siblings: Manfred, Ingrid, Melvin, Darlene and Ruth. She was a favourite auntie to many nieces and nephews and also leaves behind numerous aunts, uncles and cousins.
She is predeceased by her father Clarence Hildebrand, her mother Emilie Hildebrand (Mauer), her brother Dennis, her mother-in-law Mildred Coutts (Law) and her father-in-law Ian Coutts.
Doris was born and raised in Edmonton and raised her own family here as well. For the past 35 years, she worked in various clerical roles at the Misericordia hospital and her kindness and humour left a meaningful impression on the staff and patients she met over her many years there. Doris attended the First Church of God (Holyrood Community Church) for over 40 years and served the church in many different roles including organizing the nursery volunteers, stocking the kitchen, teaching Sunday School, and hosting both small group bible studies and larger, rowdier youth group events. More recently, Doris discovered a love of ballroom and line dancing and golf, and made many new close friends through the many classes and outings over the years. She loved nothing more than relaxing outside on a sunny day.
A celebration and remembrance of Doris's life will take place on Saturday, May 27 at noon at the Holyrood Community Church (9224 82 St NW). Refreshments will be served after the service. Anyone who is unable to attend can view the service via livestream by clicking this link; https://www.mattfosseyent.ca/doris-coutts/
The family thanks the many kind doctors and staff members at the Cross Cancer Institute, Optimum Wellness Integrated Clinic, Sturgeon Community Hospital and Foyer Lacombe Hospice who cared for Doris throughout her journey.
In lieu of flowers, donations can be made to Craig's Cause Pancreatic Cancer Society.