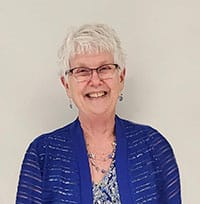 Doris Hazel Wirstiuk
It is with deep sorrow and heartache that we announce the passing of our beloved Mother on March 2, 2021 at the age of 72 years.
She is survived by her loving husband Orest, of Tomahawk, children; Tracy (Marjie) Wirstiuk of Tomahawk, Darcie (Robert) Steffler of Onoway, Jason (Michelle) Wirstiuk of Drayton Valley, 10 grandchildren; Brandon Hofmann, Danielle (Andrew) Suelzle, Chaylene (Randy) Costa, Taylor (Haiden) Moody, Logan, Lane and Amanda Steffler, Nathan, Cohen and Lily Wirstiuk, 6 great grandchildren, loving brother and sisters and numerous other family members.  She was predeceased by her mother and father Evelyn and Jack Cameron.
First in a family of 5, Hazel was born in Edmonton, September 22, 1948.  She grew up in Magnolia, Seba Beach area, then met her soon to be husband of 52 years and eventually settling down in Tomahawk. The early years of raising kids, calving cows and farming grew into cherishing times with grandchildren and travelling with siblings.  Trips to Nashville and music festivals with her sisters, dinner theaters, Sunday "church" (casino trips) and coffee at Timmy's stand out to all.  Grandchildren have memories of annual Christmas trips to the waterpark in the cold of winter and the variety of weather the MS walks brought every spring. She was very passionate of supporting causes that were near to her heart. She inspired us all to form the Cameron Connection and gather at Mission in the Mall (Winnifred Stewart Association) and the yearly MS walks. She had a way of bringing people together.
Mom's positivity and enthusiasm will be cherished and felt by all. She always had a smile and a hug and loved anything brightly colored. We get to keep feeling those hugs with every monster cookie we take a big bite out of, or each time we wrap up in our afghan made by her. When she loved she showed you through baking and handmade gifts.
To the family and friends wanting to gather in honor of Hazel's memory:
Given the current pandemic situation, the family wishes to note that a celebration of life will be announced at a later date.  For those interested, donations may be made to Drayton Valley Health foundation, Winnifred Stewart Association (winnifredstewart.com) or the Cross-Cancer Institute.
Grateful thanks to the doctors, nurses and lab staff of Drayton Valley, AHS home care staff, Winters Pharmacy, Cross cancer institute and Lois Hole Hospital for Women.