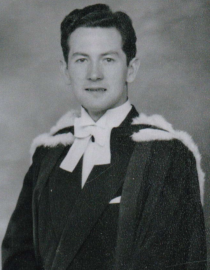 Dr. Ian Oates
October 17, 1936
-
September 3, 2022
Dr. Ian Oates (B.A., M.B., B. Chir (Cantab), D.M.R.D., F.R.C.P.(C))
Ian Oates was born in Blackburn, England to Bessie and John Edmund Oates on October 17, 1936. He forwent a career in the family's manufacturing business, Harry Oates & Sons Healds and Reeds, to pursue medicine, obtaining a B.A. and M.B. (Cambridge University), D.M.R.D. (Liverpool University), C.R.C.P. and F.R.C.P.C. in diagnostic radiology (Edmonton). He trained in surgery, general medicine, orthopedics, and trauma in Warwick, London, Coventry and Rugby before embracing diagnostic radiology in Liverpool and Edmonton. He was Head of the Division of Diagnostic Ultrasound at the Royal Alexandra Hospital, and an Assistant Clinical Professor at the University of Alberta, prefacing his lectures with magic tricks to engage the medical students' attention. He spearheaded Extracorporeal Membrane Oxygenation to treat vulnerable infants. Ian continued working well into his 70s, providing his expertise in ultrasound and breast cancer screening to MIC Medical Imaging, Insight Medical Imaging, and Cross Cancer Institute.
Outside medicine, Ian pursued unique interests including magic, piano, flute, drums, reading, gardening, and travelling. Ian was an accomplished scratch golfer, devoting countless hours enjoying his favorite pastime at the Derrick Golf and Winter Club.
The epitome of an English gentleman, Ian will be greatly missed for his polite, calm and kind demeanor.  He leaves his devoted wife, Gloria, and daughters, Rachel and Kirsten.
A private service will be held. In lieu of tributes, consider donations to Hope Mission or Mustard Seed.