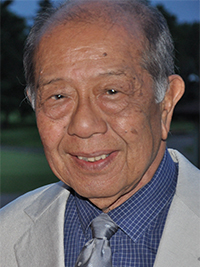 Dr. Robert Chen, FRCP
August 1, 1934
-
November 6, 2021
Born in Rangoon, Burma to parents George Chen and Kim Kee, Robert Chen spent his childhood years in Rangoon, Chongqing, and Calcutta. A cosmopolitan soul whose remarkable intelligence was fuelled by lifelong learning, Robert attended the Calcutta Boys School (the first Chinese student), studied world religions in London, and graduated from the Royal College of Surgeons in Dublin. He went on to work at various hospitals in London, as well as the Manchester Children's Hospital and Warrington General Hospital, where he met Pam. Robert and Pam immigrated to Canada in 1965 and settled in Edmonton. Robert's training in paediatrics and endocrinology took him from Dublin to London, Munich, Edmonton, and Pittsburgh, before establishing a successful 42-year paediatric practice in Edmonton. 
Robert had a passion for cars, literature, music, travel, food, and reading. His kindness and ability to speak with wisdom and humour on all subjects endeared him to many. A private and principled person, Robert also loved to travel with family, sharing his memories of the cities he had lived in and exploring new places. Always dreaming and planning future trips, we know he will be with us on all our journeys, near and far.
He will be dearly missed by his wife of 55 years Pam, children Kim (Richard), Tina (Steven), David (Tobi), grandchildren Emily, Tommy & Charlotte, Cecilia & Davey, Robbie & Nicky (mother Jen), and nieces Jane and Avril. He is also mourned by his half-sisters Margaret, Nellie, Olga, Patti, Queenie, and Rose. 
At Robert's request, his life will be celebrated at a private family gathering. Donations can be made in his honour to the Royal Alexandra Hospital Foundation (royalalex.org)