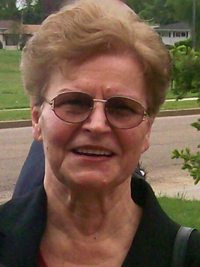 Dragica Misita
On July 7, 2020 Dragica Misita passed away peacefully at the age of 81.
Dragica leaves to mourn: two children: Dragan (Zeljka), and Borislav (Dusanka) Misita; four grandchildren: Aljosa, Tanja, Dragana and Marko; one sister: Vaska (Todo) Krzman, two brothers: Nikola (Radmila) and Zarko (Kova) Kulidzan.
Dragica was predeceased by her loving husband Dordo Misita, parents: Petar and Gospava Kulidzan, as well as brother Borivoje (Dana) Kulidzan.
The family wishes to extend thanks to Dragica's Family Doctor Jelena Pekez, Cross Cancer Institute Doctor Karen King, the staff at Foyer Lacombe Hospice, as well as Home and Palliative Care Team staff for their dedicated care to Dragica.
Funeral Rites
Saturday, July 11, 2020 10:00 am (Family Only)
Serbian Orthodox Church ST Sava
12904 112 Street NW
Edmonton, Alberta
Interment to follow immediately
Saturday, July 11, 2020 at 11:00 am
St. Michaels Cemetery
13819-82 Street
Edmonton, Alberta.
In lieu of flowers the family ask that donations be made to the Alberta Cancer Foundation at
https://www.albertacancer.ca/donate/