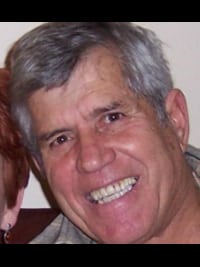 Eduino da Rosa Vieira
In Loving Memory of EDUINO VIEIRA 
Eduino da Rosa Vieira passed away peacefully on February 8, 2021. Eduino was a long-time resident of Edmonton but his home was in the Azores, Portugal. He was born there on January 20, 1938, to Manuel and Eduina Vieira.  He was the third child, joining Maria Manuela, and Manuel, then welcoming Fatima into the family a couple years later.  By the time Ed was three years old, his father had passed away.  His early life was modest, and he helped the family by taking jobs, as a child.
In 1962, he married Maria Aurora Garcia, who totally captivated his heart and soul for the next six decades.  The young couple had three sons, Carlos born in 1963, Joe in 1965 and a little later Aldo arrived in 1971. Eduino was very industrious and was very good at fixing things, so he worked at a lot of different things on the small island of Faial. He worked at the Power Station and he also worked very hard on many of the docked ships that travelled through the archipelago.  In the spring of 1975, the Vieira family had emigrated to Canada, settling in Edmonton, where they joined family and were embraced by a small community of other Portuguese immigrants.
His immigrant story is similar to many others.  He worked very hard at one job and then joined his family to do another job. He worked on every house the family had, to build a better home. All the while, Eduino was eager to share anything he had or anything he could do with his friends and family.  Many friends and family stayed in the Vieira home, or shared meals where the hospitality and the generosity of the host was above and beyond.
Eduino will be remembered as a loving man who was dedicated to his wife and his family. He generously gave himself to learning and honing many skills that brought him together with people, who soon called him friend. He was always courageous and nurturing. He will be missed. 
Eduino was predeceased by Manuel & Eduina Vieira, his parents. 
Eduino is survived by his loving wife of 59 years Maria Aurora Vieira (nee Garcia); his sons Carlos (Carolyn), Joe (Lorelei), Adalberto (Karen), grandchildren Dylan, Ryan & Kennedy, Katarina (Jordan) & Mateo, great grandson Layne Vieira Bello, special grandson Ryan (Mary) Musgrove, honorary family Pamela (Darren) Sieben & family, sister-in-law Maria Laura Garcia, niece Elizabeth Bonnema (nee Garcia), niece Paulina Maddalena (nee Cassiano) and nephew Nelson Cassiano, as well as their families.  In Portugal, he leaves behind sister, Maria Manuela Maciel, brother Manuel, sister Fatima Camara, numerous nieces, nephews and many friends. 
In lieu of flowers, memorial donations may be made to Heart and Stroke Foundation 100-119 14 street NW, Calgary AB, T2N 1Z6 or online at www.heartandstroke.ca
Memorial Service will be held at Our Lady of Fatima Portuguese Church at 10 am on Friday, February 19, 2021.  Due to the Covid-19 restrictions this will by invite only.