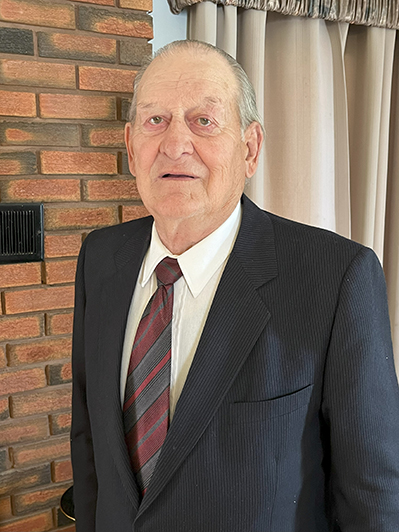 Edward George Bobocel
May 15, 1942
-
September 8, 2023
Edward George Bobocel passed away on September 8, 2023 in Lac La Biche, Alberta after a two year battle with cancer. He was born in Vilna, Alberta on May 15, 1942 to George and Jennie Bobocel. He was the eldest of nine children. His family lived in McRae, Alberta until 1955, when they moved to Owelseye.
From a very young age, Ed worked with his father George at their sawmill in Heart Lake, Alberta. Even at 12 years old he could be found on an apple box seat of a lumber truck, just seeing above the steering wheel. Ed often spoke of driving tuck loads of lumber from the Heart Lake mill to their farm at Owelseye. At around age 19, he drove truck for a lumber company near Edmonton. Later moving to Topley Landing in the Burns Lake area, British Columbia, where he continued driving truck for a large saw mill. Eventually he returned to the St. Paul area, where he met Sandra Peterson and they were married on September 14, 1968. Later in that year, they moved to the Lac La Biche area. Ed continued hauling logs to sawmills in the area for a number of years. Towards the late 1970's, he purchased land two miles west of Lac La Biche and set up his own sawmill, which is the site of Ed Bobocel Lumber today. For decades, Ed has worked together with his family, selling lumber and loading the thousands of lumber trucks that have entered his yard, being very involved right up to the end. He truly enjoyed the time he could spend in the bush, pushing brush piles with his CAT and grading the roads for the log trucks.
Ed is survived by his loving wife, Sandra, of 54 years; his son Nathan (Megan) Bobocel; his 2 grandaughters Brooklyn and Sierra; his 5 sisters Irene Ostapovich, Marie (John) Labant, Betty-Anne (Wayne) Whalley, Bernice Sewell, and Diane (Elvyn) Lander; his brother Roman Bobocel; and numerous nieces and nephews.
Ed was predeceased by his parents, George and Jennie Bobocel; his brothers Ward and Steve Bobocel; and his brother in law Joe Ostapovich.
A funeral service was held for Ed on September 15, 2023 in Lac La Biche.