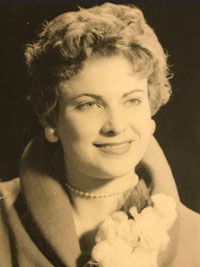 Eileen Olga (Pfeifle) Rathbone
Feb 28, 1938 - Dec 06, 2020
It is with great sadness that the family of Eileen Olga (Pfeifle) Rathbone announce Eileen passed away in the early morning of Sunday, Dec 06, 2020 at the age of 82. Eileen was born Feb 28, 1938 in Edmonton Alta.
She was the youngest of 11 kids to Andreas & Freda (Hellar) Pfeifle (predeceased) Her estranged husband George was also predeceased in 1977.
Eileen loved life to the fullest, & loved spending time with her family & friends. She was respected & loved by many. Her Footprint on earth was small but of all who knew her impact was huge. Eileen worked for Ed-Tel for 30 years, she started her career part-time as a 611trouble operator. Most of her career was in the security division of Edmonton telephones, then to Telus when Edmonton Telephones was purchased by Telus. Eileen finished her career with Telus with distinction for years of service, customer care, quality of her work and much love and respect among her fellow employees.
Eileen is survived by her 4 children, Leonard & (Louise) Rathbone, Cheryl Dowhan & (Robert Waite), Bruce Rathbone, Michael Rathbone and( Laurie-Lynne Bergen-Babee)., Her 8 grandchildren Cory, Amy, Dustin Dowhan, Kyle (Tiarra) Rathbone, Jeffrey Rathbone-Hallett, Lisa-Ann Smith-Sigmar, Nikita & Heaven Rathbone, Her 5 great grandchildren Haleigh & Carter Diserlais, Kaya & Sarenity Smith-Sigmar & Trysten Smith-Watson.
Eileen has One surviving brother Irvin Pfeifle also known as sonny and Rupert.
Her extended Family includes nieces, nephews, cousins and their families across Canada & North America. She had a very extended family.
In light of Covid restrictions no service will be held at this time. A Celebration of Life will be held at a later date sometime in