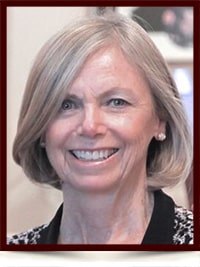 Elizabeth Noreen Kuhnel (nee Harris)
October 7, 1951 – October 29, 2017
At 2:45 a.m., on October 29th, at Edmonton General Hospital, Elizabeth passed into the arms of her Lord, after an incredibly valiant effort battling an unrelenting spreading cancer. She was gracious and always thinking of others first even to the end, and spent many happy times with her family and friends in her last weeks with us.
She will be forever remembered as the Love of His Life by her husband of 34 years, Hans. Elizabeth was born in Toronto to Robert and Elizabeth Harris. After graduation from U of Waterloo, she moved to Alberta, where she met and married Hans, raised their family, enjoyed a significant and successful career with Tourism Alberta, helped in the operations and accounting for the 4 Kuhnel restaurants, amassed hundreds of close friends, engaged importantly in her church and bible study group, and, amongst many, many other things, ran 7 marathons. She loved life, gladly gave much more than she got, lived humbly, imparted wisdom meaningfully, inspired those she touched, was respected and admired by co-workers, and through her quiet determination "made a difference" in all her endeavors.
Her family was the most important part of her life. She loved them unconditionally. She leaves behind Hans and their children, Kristie and Tyson. Kristie's husband Mark Epp, and their children, Samuel, Grace, Henry, and a baby to be born in January. Tyson's wife Jessica. Will also be sadly missed by stepdaughter, Susan Manning, husband John, and daughters Emma, Abby and Kate; and by stepson Mike Kuhnel and companion Gillian and her son Daks. Extremely close are her brothers Bob and Victor and her sister Jane who cared for Elizabeth untiringly during her last months, and brought her much joy.
The Harris family all knew and loved Elizabeth immensely: Robert's son Bradley and his wife Dom and daughter Riley, and his other sons Andrew and Patrick; Victor's wife Donna, and their son Kieran and daughter Caitlin and husband Aaron Core, and; Jane's clan – daughter Sarah Siebert, husband Mike, children Ethan, Kyla, Chloe and Clayton, son William, and son Robert and wife Elena, children, Cruz, Maximus and Iyla.
The family wishes to express sincere gratitude to the staff of the Cross Cancer Institute, West Edmonton Home Care and Edmonton General Palliative Care.
A celebration of life will be held on Friday, November 3rd at 1:30 p.m, at Beulah Alliance Church 17504 98A Ave NW, Edmonton.
Donations could be made to Young Life West Edmonton, or to a charity of your choice in Elizabeth's name.