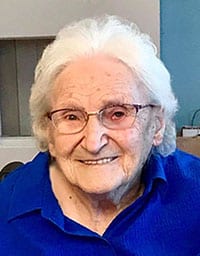 Elsie Pregoda
Elsie Pregoda, formerly of Rimbey, returned to the world of spirit on May 10, 2020 at 99 years of age.
Elsie was born February 25, 1921 in Hilda, Alberta to parents, Emanuel and Paulina Murschel. She grew up on a farm near Ponoka, Alberta. She received her teaching certificate in 1939 and taught for 4 years. She married John Pregoda in November 1944. They moved to a farm two miles north of Rimbey, retiring and moving to town in October 1973. They went on a variety of bus tours in the US and Canada. They took several road trips, visiting with friends and relatives. One of their most notable trips was one to Maui with Lorna and Brian in 1992. John passed away in October 1993.
Elsie enjoyed gardening. She loved her flowers and picking berries. Raspberries and Saskatoons grew in abundance in her yard, and she always had vegetables to share. Elsie enjoyed visiting with neighbours and friends over tea and cookies. She loved talking on the phone and kept in touch with many people this way. She had a keen mind and kept detailed records of day to day life and family history. Always empathetic, she was a good friend to those who knew her well. She enjoyed tatting, knitting, crocheting and sewing. Her passion and dedication to needlework resulted in dozens of beautiful pictures.
Loving remembered by her daughter, Lorna, sister, Eleanora, brother, Ernest, brother-in-law, George, numerous nieces and nephews, neighbours and friends.
She will be missed.
A private celebration of her life will be held.