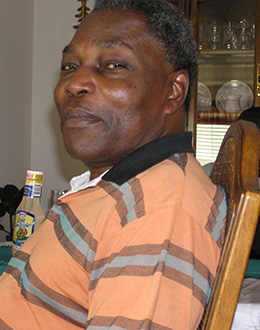 Elvin Schofield Codrington
It is with profound sadness that the family of Elvin Schofield Codrington announce his peaceful passing on October 5, 2020. Elvin is survived by his two sons: Michael (Phebe) and David (Debra), his daughter Angela (Courtney) and his grandchildren Sydney and Preston. He was predeceased by his loving wife Eunita and his parents Beryl and Edrick.
Elvin was born in Barbados to a mother who was homemaker and a father who was a chemist at a sugar factory. He left Barbados in 1962 for England at the encouragement of his future wife, Eunita, who was studying nursing on a scholarship. In his nearly seven years in England, he completed an education in psychiatric nursing, married, and had two sons (Michael and David). His daughter (Angela) was born in Canada in later years.
While in England, Elvin had a desire to move to Canada. In 1969, Elvin and family immigrated to Canada after receiving a job offer at Alberta Hospital in Edmonton where he worked for approximately 12 years. He had a love of playing cricket and soon after he arrived in the city, he began playing on the Sportsmen Cricket team where he played until 1993. During his time with the team, he received several awards and played in many championships. In 1982, he was hired by Alberta Health in Edmonton where he worked as a Mental Health Therapist until 1993 when he retired.
Elvin was a loyal family man who had a strong moral compass, a love of music, and a great sense of humour. He stressed the importance of a good education, particularly to his daughter who he wanted to be financially independent. He was a well-rounded man who could converse in many topics including, politics, social sciences, and sports. After retirement, he spent his golden years travelling to Barbados with his wife, Eunita, and hosting the annual New Year's Eve party at his home, which became a highly anticipated event by many people.
Elvin will be greatly missed. Thank you to all the friends who kept his spirits up during the years, especially Hugh, Richard, Stan, and Harry. Thank you to the staff at the Royal Alexandra Hospital, Miller Crossing Care Centre, and In-Home Physiotherapy.
Due to gathering restrictions related to the COVID-19 pandemic and at the request of the deceased, the celebration of his life will be limited to family.