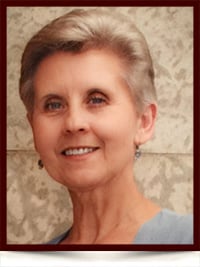 Elvira Barabash
March 16, 1940 - February 20, 2017
It is with a heavy heart that we announce the passing of Elvira after her long and courageous battle with breast cancer.
Elvira was the younger of two daughters, and was predeceased by her husband Harry, her parents Jozsef and Margaret Csondor,nee Koroknay, and is survived by her loving daughter Chrysta Miskiman (Greg), granddaughters Paige, and Megan, and her sister, Maria Varallay.
Elvira was born in Magyargencs, Hungary and came to Canada with her family during the Hungarian Revolution in 1957. Upon completion of High School in Canada, she attended film school at the University of Southern California (USC). After graduating, Elvira returned to Edmonton and started her career as a television and film producer for the University of Alberta. She was a co founder of QCTV television, and also held a position on the Board of Directors for the National Film Board of Canada.
Elvira was extremely devoted to her faith and was heavily involved in the Catholic Church. Many of her days were spent planning, cooking, baking and volunteering on several different committees for the church. During the summer months, you could always find her in her garden tending to her roses and many other flowers.
Elvira loved her family fiercely and was extremely proud of her two granddaughters. She was introduced through her granddaughters to the world of horses, and she quickly became one of their strongest supporters.
Elvira touched the hearts of everyone she met, and she will be greatly missed
Prayers
7:00PM Thursday February 23, 2017
Trinity Funeral Home Chapel
10530 116 Street Edmonton, Alberta
Mass of Christian Burial
10:00AM Friday February 24, 2017
St. Emeric Catholic Hungarian
12960 112 St NW Edmonton, Alberta