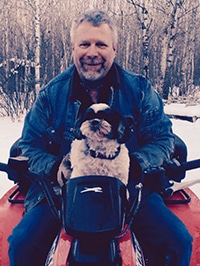 Eric Robert Drever
Eric Robert Drever passed away peacefully April 20, 2018 surrounded by loved ones. He fought a very hard battle with pancreatic cancer.
Eric is survived by the love of his life, Cathy Shier, her daughters, Rebecca (Nick), April (Brett) Luscombe, brothers Murray (Kathy) Drever, Gerald (Maureen) Drever, Delbert (Claudia) Drever, sister Darlene (Rollin) Paskewitz, the Nickel family, numerous nieces, nephews and dear friends Lawrence and Jeannie Hay.
Predeceased by his parents Herbert and Ilene Drever.
Celebration of Life
Tuesday April 24, 2018 11:00AM
Trinity Funeral Home
10530 116 St NW, Edmonton, AB T5H 3L7
In lieu of flowers, please make a donation in honor of Eric at www.pancreaticcancercanada.ca > Ways to Give > In Memory > Find a Memorial Page > Eric Drever