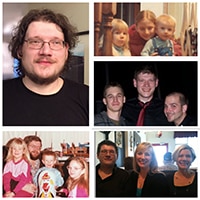 Erik Franklin Matthew Goble
On November 11, 2018, Erik Franklin Matthew GOBLE of Lethbridge, Alberta, passed away peacefully at the age of 37 years surrounded by friends and family.
Erik was known for his dry sense of humour, his gift with computers, and his genuine kindness. He spent much of his childhood in Waterton Lakes National Park and that love of the outdoors continued in adulthood. He frequently enjoyed camping with his friends.
Erik is predeceased by his father, Erik Oliver Goble, and is survived by his mother, Loretta (Lori) Goble (Ron Duncombe), his sisters Karin Goble (Derek Lidstone) and Erika Goble (Ryan Gullage), his nephews Merek, Bergen, and Evret GobleLidstone, and his almost-brother and best friend, Jordan Groves (Megan Groves) and their sons, Darwin and Osian. He is also survived by Nimbus, a hyperactive but beloved border collie.
A memorial service will be held for Erik from 12:00 pm to 4:00 pm on Saturday, November 17, 2018, at 46 Heritage Circle W., Lethbridge, AB. Light refreshments to be served.
In lieu of flowers, sign your organ donor card and tell your family, because like many people on the transplant list, Erik died waiting.