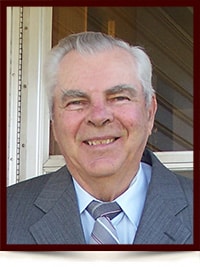 Ernest Miller
Ernie Miller passed away peacefully to be with his Lord and Savior on August 1, 2016. He will be sadly missed by his loving wife of 63 years, Martha (nee Mix), son Helmut Miller of Edmonton, daughter Trudy (Ron) Aldrich of Minnesota, two grandsons Steven (Sarah) Aldrich of Minnesota and Jeff (Stefanie) Aldrich of Colorado, and 4 great-grandchildren, Stella, Jack, Henry and Emmett Aldrich, 9 surviving siblings, and other family and friends.
Ernie was bom in a log house in Naples, Alberta. He was the 4th oldest of 12 children and worked hard to help his parents. His family moved to other farms near Barrhead and he later relocated to Edmonton in about 1950.
Ernie had an 8th grade education and began his working career as a lumberjack in High Prairie at the age of 16. Later he worked as a salesclerk at Ashdowns' Hardware Store, a carpenter at Engineered Homes and a partner with 2 brothers, Richard and Art, at Alberta Stamp & Marking Company. After retiring, he also worked as a part-time employee at CanAlta Bindery and a Ranger at the Victoria Golf Course. He was an intelligent man, well respected, hard-working, and kind.
Ernie met his wife, Martha, when she immigrated to Canada from Europe in 1948. They had a wonderful friendship and love soon blossomed. They were married on November 22, 1952 at St. Peters Lutheran Church in Edmonton. They were blessed in 1954 with a son, Helmut, and in 1955 with a daughter, Trudy.
Ernie was introduced to golfing by his brother, Richard, and it soon became a passion of his. Many accomplished golfers never get a single hole-in-one, but Ernie achieved 8 holes-in-one throughout his golfing years.
Dementia/Alzheimer's entered Ernie's life in about 2004 and a beautiful, vital life began to change. He died as he lived, as everyone's friend. He was always thoughtful, loving and kind. What precious memories he leaves behind! He left his wife suddenly, his thoughts unknown. But he left her memories she's proud to own. She will always love him and looks forward to seeing him again in Heaven.
Funeral Service
1 pm, August 8, 2016
Evangelical Fellowship Church
10511 79 Avenue, Edmonton
Memorials preferred to Alzheimer Society of Alberta, #308, 14925 111 Ave NW, Edmonton, AB T5M 2P6.