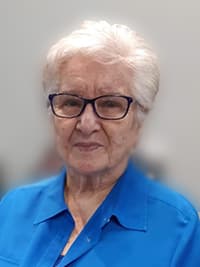 Ernestina Lopes Cordeiro
Surrounded by her loving family, Ernestina Lopes Cordeiro passed away peacefully on December 23, 2020 at the age of 84 years.
Left to cherish her memory is her loving husband Manuel, her 2 daughters Maria de Conceicao (Rick) Spink, Julie (Debbie), 5 grandchildren: Rebecca, John, Jeanette, Sarah, Abriella ,5 great-grandchildren: Mikayla, Trinity, Kendra, Felicity, Harrison and 1 great-great-grandchild Dylan; her 2 sisters Ilda (Jose) Medeiros, Madelena Coelho, brother Joao (Zelia) Coelho, along with many nieces, nephews and extended family and dear friends.
Ernestina was predeceased by her parents Joao and Ilda Coelho, her daughter Natalia Mlikotic, and her brother Denis Lopes Coelho.
In lieu of flowers donations can be made to the Alberta Cross Cancer Institute.
Prayers Tuesday December 29, 2020 at Our Lady of Fatima Parish where Reverend Sergio Luiz Mafra Santos will celebrate a Mass of Christian Burial on Wednesday December 30, 2020 with Entombment to follow at Holy Cross Mausoleum.
A private service will be held due to current Covid 19 Restrictions.