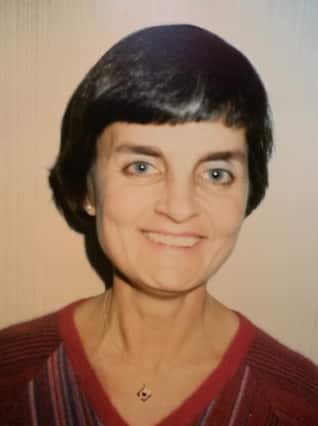 Ethne McEachern
1935-2019
Ethne passed away peacefully in her own bed in her own home after 28 years of living with Parkinson's.  She is mourned by her other sister Moira, and several next generation English relatives, her devoted husband Alex McEachern, his large family and of her many friends. Home care worker Annie Johnson and long-time family friend Dahlia (Dee) Matthews are saddened but know they helped Alex (or Alex helped them) provide excellent and loving care to Ethne.
Ethne was predeceased by her parents Iris Bartley (née Hezlett) and Gwyther Bartley and two sisters, Shena and Deirdre.   Ethne was an occupational therapist, played tennis and badminton and was supportive of Alex' politics.
There will be a celebration of Ethne's life gathering at the Royal Glenora Club, 11160 River Valley Road, on Monday, March 18 at 1 PM. Everyone is welcome.
Donations in lieu of flowers may be given to the Edmonton SPCA or The Alberta Parkinson's Association.