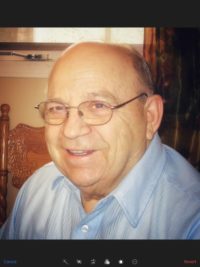 Eugene Henri Lehoux
Eugene Lehoux passed away peacefully on December 07, 2018.
He is survived by his loving wife Yvette, 2 children Lorraine (Bob), Therese (Jim), 4 grandchildren Jeremy (Janine), Christina, Daniel, Ryan (Carina), 3 great grandchildren Lily, Aria, Miriam, brothers and sisters Jean, Leon, Aime, Cecile, Roger, Robert, as well as many nieces and nephews.
He was predeceased by their baby girl Marie-Louise, his mother Alma and father Ulric, stepfather Dave, brothers and sisters Angeline, Alice, Marcel, Andrew, Raymond, Henry and Phillip.
Eugene will be fondly remembered by family and friends as a loving husband, father, and pepere. He was always first to offer help to anyone, especially when it came to problems with cars or vehicles. He loved being able to problem solve and repair anything, especially when no one else could figure it out (which was often!). If he did not have the right part in his garage, he would make one out of whatever he had on hand. His other main loves were camping, hunting, fishing, dancing, playing cards, singing with family (usually in the car), and enjoying Yvette's home cooking every day.
A Funeral Mass will be held for family and friends in the chapel of St. Michael's Long Term Care Centre, 7404 – 139 Avenue, at 2 pm on December 12, 2018.
For those who wish to make a donation in memory of Eugene, they can do so to the Alberta Lung Association P.O. Box 4500, Station South Edmonton, Alberta T6E 6K2