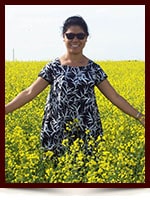 Fe Florendo
Fe Florendo, 54, passed away on Monday, March 14, at Edmonton General Hospital surrounded by her family.
Fe Florendo was born to Crisosto and Purita Supranes on June 1, 1961 in her home-country, Philippines.
In 2004, she immigrated to Alberta as a live-in caregiver to several families and later on worked as a health care aide at Bethany Senior's Home Calgary. She had been an active member of Couples for Christ- Handmaids of the Lord and been serving as a choir member at Saint Francis Parish in Calgary.
Preceded by her husband Julius, Fe had been a widow for seven years. Her strength and independence combined with kindness of heart and loving personality are undeniably remarkable to those who got to know her. As a mother, she sacrificed and worked hard for the welfare of her family. The Lord had let her participate in His salvation through her joyful suffering from ovarian cancer.
She is survived by her four children, Kristine Faith, Paulo Julio, Marco Julio and Maria Christella, grandson Markus Angelo, brothers, sisters, in-laws, nephews, nieces and friends. Memories of her will always live on in their hearts.