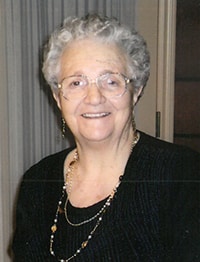 Felicia De Santis
March 15, 1924 – September 27, 2019
Mrs. Felicia De Santis of Edmonton passed away on September 27, 2019.
She is survived by her loving children Rosina, Maria, Antonio, Veronica, Angela and Charlie.
She also leaves to mourn her passing 19 grandchildren,19 great-grandchildren and 4 great-great-grandchildren. She was predeceased by her loving husband Francesco and daughter Clementina.
Prayer Service
8:00 p.m. Thursday October 3, 2019
St. Maria Goretti Roman Catholic Church
9110 110 Ave NW, Edmonton, AB
Mass of Christian Burial
10:30 a.m. Friday October 4, 2019
St. Maria Goretti Roman Catholic Church
9110 110 Ave NW, Edmonton, AB
Interment
St. Michael's Cemetery
13819 82 St NW, Edmonton, AB