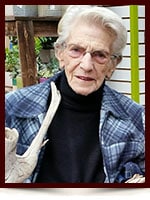 Florence Irene Deagle
The family of Florence Irene Deagle sadly announce the ending of a beautiful life. Florence passed away peacefully Thursday June 16, 2016 at the Miseracordia Hospital at the age of 94.
Her memory as Mom, Nan, Mother-in-law, Aunt will be cherished by her daughters, Bettyanne (Joe) Batt of Abbotsford, B.C.; Fran (Allen) Scherlie of Wabamun, Alberta; Eileen (Stan) Eckert of St. Albert, Alberta. Her grandchildren: Jamie (Deanne) Batt; Kevin (Sue) Batt; Greg (Debra) Batt; Brett (Amanda) Scherlie; Todd (Jocelyn) Scherlie; Elan (Gord) Tkachuk; Ed Holden; Tim (Vanessa) Holden; Trish (Trent) Moore; Michael Sander; Christie (Jed) McMurter. Her greatgrandchildren: Lindsay, Cameron, Joe, Dave, Ryan, Hannah, Evan, Clark, Kate, Makawi, Dylan, Austin, Avery, Andie, Alexis, Taylor, Austin, Wyatt, Zachary, Andy, Gavin, Kaleb, Kiera.  Her great great grandchild Luka.  As well as her special nieces, Renee, Lori and Gail, plus many other nieces and nephews.
She is predeceased by her daughter Evelyn in 2005, her parents, 1 sister, 2 brothers and husband Joe.
Memorial Service
July 2, 2016 11:00AM
St. Johns the Evangelist
9830 - 148 Street, Edmonton AB
Donations may be made to Sign of Hope Society c/o 12431 Stony Plain Road, Edmonton, Alberta T5N 3N3, or the Alberta Cancer Foundation.