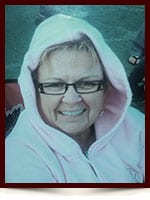 Frances Gaskell
Fran Gaskell was 68 when she died suddenly on Saturday, January 11, 2014. She is survived by her loving family – daughters: Twyla Martin; Nikki Keehn (Carl) and Tracy Martin (Jason Maloney); grandchildren: Chelbie, Mykala, X'yprus, Autumn, Raygen, Baby Maloney; great-grandson Pierre; and sister Gail (Nick) and many nieces, nephews and friends.
Fran knew what it meant to really live your life to the fullest. She was an incredible cook and her culinary skills were world renowned (even catering a number of events). She made it a point to cook a special meal for each of her daughters' and their families' birthdays. It was often joked that her traditional family Sunday dinners could feed the entire Canadian army with plenty left over.
Fran loved to travel and experience the world. You would often find travel brochures littered around her house as she was planning her next trip. Her travels always involved family and friends. She traveled as far away as Australia and the Cook Islands, and as near as Jasper, British Columbia and the United States. Most recently, Fran went to Scotland, where she visited family.
Fran's circle of friends crossed borders, oceans and languages. Wherever she traveled she touched people's lives and made an unforgettable impression.
She was an avid Edmonton Eskimo fan and supporter, holding season tickets for more than 30 years. Her enthusiasm was such that she actually went through numerous cow bells (a classic Edmonton noisemaker) – which was not known to be possible.
Fran worked for the Alberta government for more than 30 years, and since 2006 was a salesperson for Printer World. Her engaging personality and zest for life made her salesmanship skills enviable, having won awards for the best salesperson in Canada twice.
When one thinks of Fran, one's thoughts immediately think of family, an open heart, and a house filled with laughter and love. She was generous to a fault and was always the first to help those who needed it. Fran made sure no one left her house with an empty stomach or an empty heart.
Visitation
5:00PM - 7:00PM Thursday January 16th
Trinity Funeral Chapel
12134-66 Street Edmonton, AB
Funeral Service
11:00AM Friday  January 17th
Church of Jesus Christ of Latter Day Saints
9010 85 Street Edmonton, AB