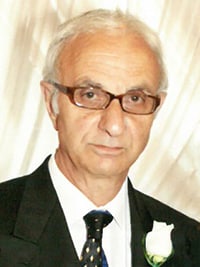 Francesco Caligiuri
On December 19, 2019, Francesco Caligiuri of Edmonton passed away in his home peacefully at the age of 75.  Francesco and wife, Concetta, were in their 52nd year of marriage.  Along with Concetta, Frank will be deeply missed by his son and daughters: Carmine (Diane), Angelina, Sandra (Chris); grandchildren Eros, Athena, Gabrielle, Marcus; siblings Aninna, Giovannina, and Michele.  Predeceased by his loved ones in Italy: parents, Carmine and Angelina; siblings Mario and Amelia, and by his loved ones in Canada: siblings Alfredo and Maria.  Francesco (Frank), will be fondly remembered by family and friends in Italy and Canada.
We take comfort knowing the Lord and Savior, in His love and mercy, carried Francesco throughout his illness and grants his soul eternal rest in Him.
Mass of Christian Burial
Monday, December 30 at 11:00am
St. Clare's Roman Catholic Parish
6310 118 Ave NW, Edmonton, AB
Interment
Holy Cross Cemetery
14611 Mark Messier Trail
In lieu of tributes, consider making donations to the Alzheimer Society of Alberta & NWT or Caregivers Alberta in Edmonton.