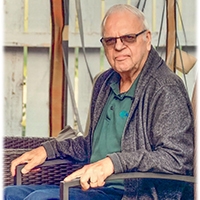 Fred Theodore Rewniak
April 7, 1936
-
July 11, 2021
On July 11, 2021, Fred Rewniak of Edmonton, Alberta passed away peacefully at his home at the age of 85 years. He will be sadly missed by his wife Lilly of 61 years and his children: Brenda Rewniak (Richard), Sharon Eichler (Henry), Darryl Rewniak (Josée), and Gwen Vivian (Ron) of Edmonton, and 9 grandchildren: Keith Rewniak Cameron Eichler, Ryan Eichler, Rebecca Welling (Seamus), Jasmine Rewniak, Jared Rewniak, Meagan Brooks (Gerard), Jordan Brooks, and Eddy Vivian.
Fred is survived by brother Victor Rewniak, sisters Sylvia Paskaruk, Elizabeth Baliant and Sonia Rewniak (Alfie).
Fred was predeceased by parents Nick and Anne Rewniak, two sisters Margaret and Rose, and six brothers, Walter, Peter, Melvin, Carl, David, and Orest.
Fred will be sadly missed by many nieces and nephews and friends.
Celebration of life will be held on July 20, 2021 at Trinity Funeral Home Chapel at 2pm. Viewing from 1-2pm.
Cremation to follow after the service. In lieu of flowers, donations can be made to a charity of your choice.