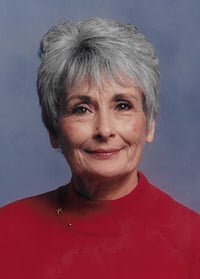 Frieda Wilkie Heine
1937–2018
After a brief illness Frieda Heine passed away peacefully on Saturday, February 3, 2018, at the Misericordia Hospital at the age of 80. Frieda's passing will be mourned by her loving family and many friends. Frieda is the oldest child of her predeceased parents Reinhold and Martha Wilkie, of Edmonton. She is survived by her husband Alvin Heine, by sons Mark Baier (Sally), Miles Baier (Dawn), by step daughters Heide Dagg (Blair) and Colleen Wall (Terry), by grandchildren Kelly Baier, Julie Baier, Jared Chilko (Amanda), Amber Munro (Stewart), Arielle Dagg, Dawna Wall, Jordan Wall, Brayden Wall and by siblings Elmer Wilkie (Lois), Eddy Wilkie (Sylvia), George Wilkie (Shiela), David Wilkie (Erica), Ruth Chura (Roy), Betty Jewer and Terri Sigurdur.
Frieda was a dedicated and supportive wife and mother always making time to help where needed and provide valuable advice. Frieda loved animals and was a dedicated supporter of the SPCA Frieda's kind- hearted nature always gravitated to giving a voice to those who could not speak for themselves.
We would like to recognize the caring and supportive care Frieda received at the Misericordia hospital by Doctors and Nurses who ensured Frieda was comfortable and at peace during her final days. We would also like to recognize the care Frieda received at Villa Caritas, Glastonbury Mews, and Lewis Estates.
Remembrances and condolences may be expressed to the family online (Trinity Funeral Home of Edmonton) and it is encouraged to share stories and photos which will be shared with the family. Family and friends are welcome to attend a reception for Frieda at the Trinity Reception Centre at 10530–116 Street, Edmonton, Alberta at 2:00 pm on February 23, 2018.
The family is requesting that in lieu of gifts or flowers that a donation is made to the SPCA in Frieda's name.